Imagine being chauffeur-driven up the driveway to the garage doors which welcome you to this magnificent home! The daily grind of life can become insignificant when you can escape into the warm and timeless beauty of a majestic house which successfully blends the edginess of modern design with the historic charm of the traditional style. Meet the Calterra!
The Calterra is a sleek, exquisite transitional luxury house that is infused with traditional architectural forms and contemporary aesthetics. Reminiscent of classic Spanish Italian Renaissance architecture and grounded in the North American Contemporary House style, everything about Calterra exclaims opulence, sophistication, high status and elegance.
29 Calterra Court, Balzac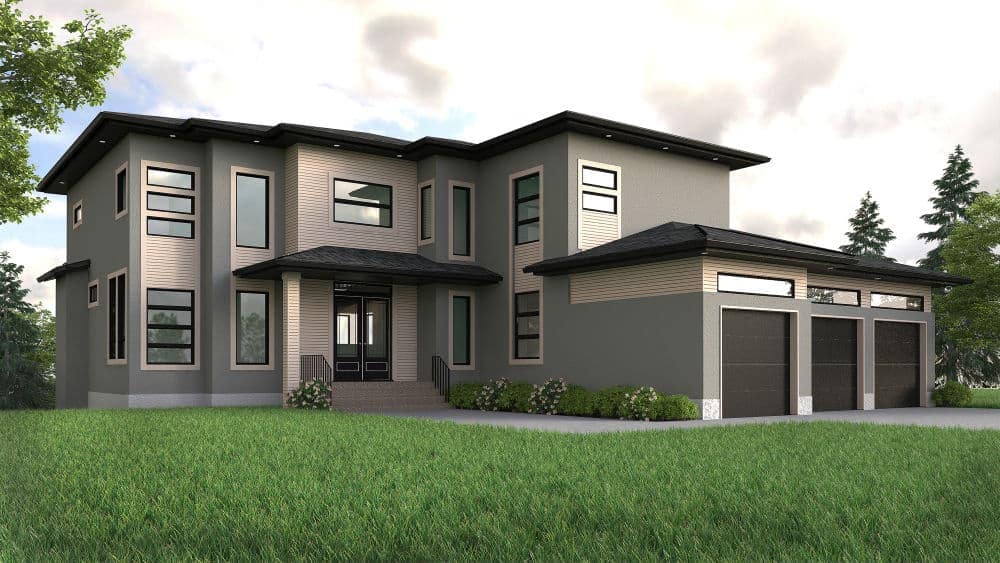 The exterior design of the house sets the tone with tall and expansive windows. The modern clean lines and vintage curb appeal are a unique and perfect match for the person looking for a place of retreat and simplicity in a home. The triple door garage is a status feature that can accommodate a multi-car fleet. Striking and progressive siding materials are adapted to create a smart and edgy exterior that weathers well and also protects the building structure.
The eclectic mix of classic legacy styles and present-day elements continues inside where the 9-foot entrance doors widen to a fabulous great room — an open floor concept enhanced with high ceilings and modern hardwood flooring. Unique beams on the ceilings are combined with ornate stone feature walls to create a cultured atmosphere for a person of style.
The foyer ushers an elaborate living room, a modern style kitchen, an inclusive dining area, a walk-through pantry, an executive flex room fit for a home office and library, and a grand spiral staircase that leads to the other floors.
The living room is designed to provide lavish views and spaces filled with natural light, with an intimate fireplace that exudes steady warmth.
The ample dining area also showcases tall and expansive windows and separates the foyer from a spacious kitchen that is both dapper and functional.
Every feature in the great room is primed for comfort and relaxation, family time, or while entertaining.
The splash of modernism and classic functionalism in the kitchen design is what really turns up the heat. The kitchen boasts an oversized island that creates a polished foundation for jazzy countertops, deep sink, swank oven and cooktop, refrigerator with option classic double French doors, and other premium stainless-steel appliances that collaboratively offer fashionable flexibility for urbane home owners.
A practical walk-through pantry — invented with top to bottom roomy shelves — and a classic mudroom are thoughtfully embedded to maximize space and movement for the modern family.
The top floor opens out to a fabulous geography of 4 bedrooms and bonus flex room designed to provide privacy and a classy atmosphere for large or extended families. Each room on the top floor radiates an air of refinement.
The focal point on the top floor is an expansive flex space, envisioned as a loft to relax and a spot for some peace of mind. This bonus room can be transformed into an arcade, a theatre, playroom or other extensible options that reflect the flair, character, and grace of affluent living.
Conceived as a tranquil sanctuary for privacy, leisure, and sleep, the Calterra master bedroom is a magnificent and well-groomed space that is attached to a sunrise balcony. The large windows enhance the waves of natural light pouring from outside.
The master bedroom is also adjoined by an upscale en suite bathroom which includes a closely-knit ensemble of large closets, an elegant spa bath, built-in wall cabinet and custom drawers, and an invigorating walk-in shower for two.
Three additional bedroom suites on the top floor come with a shared bathroom, an en suite bathroom, and walk-in closets that help accomplish the desire for privacy and home vacation feeling. All windows are fitted with triple glass panes designed for the Canadian climate.
Gracious comforts also abide downstairs in the walkout basement, which features a large-sized bedroom, 4-piece bathroom with walk-in shower, laundry room, a multi-functional space to situate a gym or custom bar. The palatial basement is made more prominent by the traditional appeal of a cozy fireplace, rear patio entree, and generous views of the mountains coming through the tall, oversized windows.
Suite 202, 90 Freeport Blvd NE, T3J 5J9